The girl: Shilpa Shetty

Her partner: Raj Kundra

How they met: The leggy lass was all over London after Big Brother and it was only a matter of time before some bloke spotted her.
Sure enough along came an NRI and we had Shilpa's media-savvy manager telling us what a wonderful couple they were!

What does he do: Er… we're not quite sure just yet.
But he sure has enough money to keep Shilpa Shetty happy!


The girl: Sushmita Sen

Her partner: Mudassar Aziz

How they met: Apparently on the sets of Sush's upcoming and movie Dulha Mil Gaya!
The guy is directing the film that seems to have been stuck forever thanks to
a certain Mr Shah Rukh Khan. With the movie being in production for at least over a couple of years,
I think it was only matter of time before the two fell for each other

What does he do: Well he IS directing Dulha Mil Gaya for now and if I'm given to believe
he's been making the most of his situation with Sush!


The girl: Ameesha Patel

Her partner: Kanav Puri

How they met: Apparently the two met at a function in Delhi and Ameesha hasn't had enough of the guy!
The girl makes sure everyone around her knows he's been hooked cooked and booked!
It seems HE was the reason behind Ameesha's break-up with Vikram Bhatt.

What does he do: Kanav Puri is said to be a London-based businessman.
Now just what he does in London is another matter altogether.
Though, we'd love to know why he's seeing her in the first place!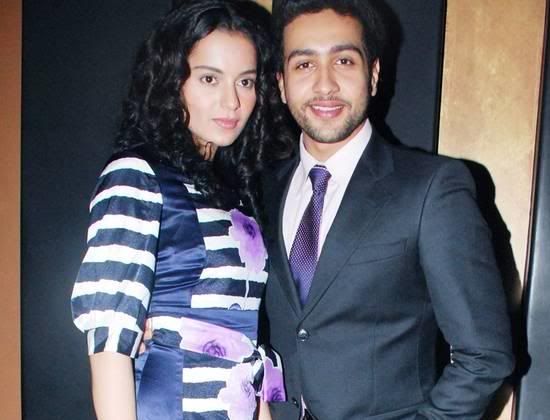 The girl: Kangana Ranaut

Her partner: Adhyayan Suman

How they met: While shooting for their last release Raaz 2,
Adhyayan was smitten and it seems so was Kangana! The spooky sets,
we're sure, were an apt setting for Kangana known for her histrionics…

What does he do: Adhyayan is the son of television star Shekhar Suman.
Born with a silver spoon in her mouth, Adhyayan is said to be quite a mild-mannered boy.
With Raaz behind him, Adhyayan has a couple of other releases lined up for him.

The girl: Malaika Arora Khan

Her husband: Arbaaz Khan

How they met: It was during the shoot of a coffee commercial and Malaika and Arbaaz first met years ago.
They got married in 1997 and have remained that way happily ever since.
Despite being married into a prestigious family, Malaika continues to be a working mother!

What does he do: Arbaaz Khan is better known as Salman's brother and Malaika's husband.
But the charming fellow seems to have no qualms about it. "Why should I?" he said once.
He hasn't had a hit in a long, long… make that looooong… time. And even though he
is quite a nice guy, sometimes we wish he was as nice an actor too.

The girl: Madhuri Dixit

Her partner: Dr Sriram Nene

How they met: Apparently the diva's career was on a decline and she wanted to settle down sooner rather than later.
After a reported 'whirlwind romance' the US-based doctor popped the question.
And has anyone refused a green card-holding doctor?

What does he do: Dr Sriram Nene – as the name suggests – is a medical practitioner.
Having spent a large amount of his time in the US, it seems the doc wasn't much
of a Hindi films fan. Funnily, he had no clue about his wife's superstar status in India!
Source-
Santabanta